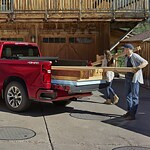 The Chevrolet Silverado 1500 is one of the most popular trucks for new car buyers. This truck has a spacious interior, and its design features make it stand out from other vehicles on the market. If you are looking to purchase a new truck, be sure to check out this blog post about the Chevrolet Silverado 1500.
A Bold Exterior Design
One of the main things that makes this vehicle stand out is its bold exterior design. This truck has a wide stance and it can fit up to 6 passengers depending on how you choose to configure it.