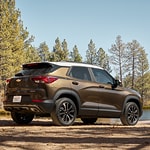 The 2023 Chevrolet Trailblazer is a compact SUV designed to provide passengers with a comfortable and tech-savvy ride. The interior of the Trailblazer is well-crafted and includes a range of features that make it stand out from other SUVs in its class.
Comfortable and Spacious Interior
The Trailblazer can seat up to five passengers, and its cabin is spacious and comfortable. The seats are upholstered in premium materials, and there is plenty of legroom and headroom for passengers to stretch out and relax.
Tech-Savvy Features